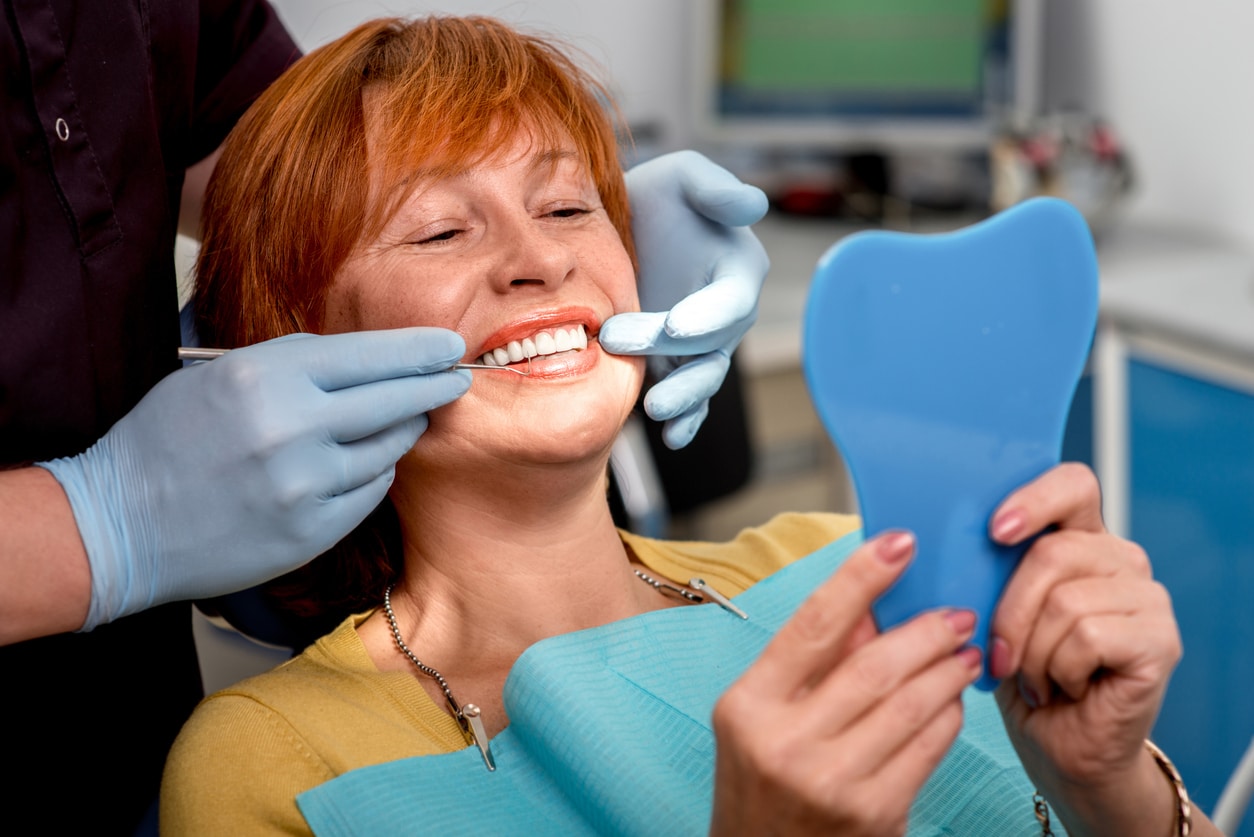 Dentures
3 Reasons Why You Should Still See a Dentist If You Have Dentures
People often believe dentists only deal with natural teeth, so because they wear dentures, they no longer need to see their dentist. However, this is a myth—and we're here to bust it.
Dentists care for oral health for all kinds of patients, including those with natural teeth, complete dentures, and partial dentures. If you're missing most of your teeth, or the damaged teeth are along the dental arch, complete dentures are most likely the right choice. On the other hand, if you're missing just a few teeth, partial dentures may be the perfect solution. 
No matter what type of dentures you have, there are several reasons why it's critical for you to see your dentist regularly. Keep reading to learn the top three reasons you should still see your dentist regardless of the work you've had done on your teeth.
Ensure a Proper Fit 
First, you need to visit your dentist regularly if you have dentures to get any necessary adjustments. Over time, your dentures can wear out and become loose, creating a less comfortable fit. Sometimes the shape of your mouth may change, leaving you with dentures that no longer fit, which can cause severe pain—not to mention ineffective chewing abilities.
The problem with poorly fitting dentures is not just discomfort, but the potential of gum disease forming. Food and bacteria can become trapped in the space between the gum and denture without a tailored fit and regular adjustment. This space is a breeding ground for bacteria, which can cause a host of problems like inflammation, bleeding, and tooth decay—not to mention bad breath. Bad breath, or halitosis, is caused by bacteria who live on the surface of the tongue and throat. Without a proper fit, you may face pain, inflammation, bad breath, and more. 
Increase the Lifespan of Your Dentures 
You can prolong your denture's life span with regular dental  visits. As a matter of fact, adequately taken care of dentures can last for upwards of seven years. In contrast, without proper care, your dentures may last only a few short years. Your dentist can comprehensively clean your dentures, gums, and surrounding areas and also offer information on how to clean your dentures at home properly .
Beyond offering helpful tips and tricks, your dentist can inspect, evaluate, and analyze your dentures for any possible problems. These problems can include cracks, plaque build-up, and other aspects that may not be visible to the untrained eye. Regular checkups can keep your dentures in tip-top shape for years to come.
Promote & Maintain Oral Health
We recommend scheduling regular dental visits, about twice yearly, if not more, to maintain proper oral health. After all, oral health does not only apply to the teeth but to the gums as well. Not to sound like a broken record, but gum disease can be tricky to spot for people who wear dentures since any space between the gum and denture can invite unwanted bacteria to stick around. However, regularly seeing your dentist can help detect and fight gum disease.
Additionally, if you wear partial dentures, you'll need to keep your remaining pearly whites in good health. Not only can your dentist take care of your dentures, but also check your remaining teeth for any cavities and signs of infection.
Choose Shelby Dental For All Your Denture Needs 
If you're wearing dentures, it's important not to neglect your oral care. By seeing your dentist at least twice a year, you can maintain a proper fit, extend your denture's lifespan, and boost your oral health! 
At Shelby Dental, our full-service denture clinics have been helping patients with dentures for 25 years. Our professional and friendly staff can provide detailed information, high-quality care, and compassionate support. If you're looking to get fitted for dentures for the first time, we offer a same-day denture service, so you can feel confident in your smile—fast. 
Schedule Your Dental Checkup at Shelby Dental! Call Us Today!
Proudly serving Calera, AL, Shelby Dental is your ultimate destination for all denture needs. We offer regular dental checkups, same-day denture fitting services, and more! Contact Shelby Dental at 205-235-3371 or contact us online for all your denture needs today!