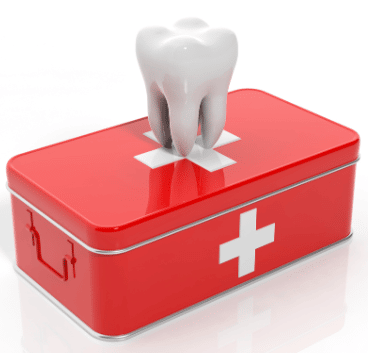 Oral Health
Dental Emergency Tips: When to Call Your Dentist
Mishaps involving your teeth are fairly common. We've all bitten down on something hard or hit our teeth on a glass bottle and wondered if our teeth were OK. In some cases, the damage is easy to detect, but in others, underlying damage might not be detected until your next dental appointment. At Shelby Dental, we want you to understand what constitutes a dental emergency when you should see a dentist, and what you should do while you wait for your appointment. 
What is a Dental Emergency?
There are different types of dental emergencies: ones that require immediate medical attention and ones that can wait until your dentist can see you for an appointment. Knowing the difference between the two is especially important if your dental emergency occurs at night or on the weekend when dental offices are closed. 
Some dental mishaps (fallen out filling, a crack, or a chip in the tooth) can wait until your dentist's office opens. In contrast, others, like lost teeth, require a visit to the emergency room. Most dental offices have an emergency number you can call after hours to help decipher the severity of your injury. 
If you've determined that you don't need to go to the ER, you should still address the tooth damage as soon as possible. Delaying a dentist visit can increase your risk of permanent damage and result in more extensive dental procedures later on.
So what constitutes a true dental emergency, and what can you do at home if you experience one? Read below to find out. 
Cracked & Broken Teeth
Whether eating an apple or ice skating with friends, cracked and broken teeth can happen instantly. If an injury results in a cracked tooth, you should use warm water to rinse your mouth and clean the area. You can also use a cold compress against your face to alleviate the swelling. A cracked tooth does not require a visit to the ER, but you should get in to see your dentist as soon as possible so it doesn't become a more serious issue like tooth decay, tooth sensitivity, and tooth loss. 
A cracked tooth can eventually progress into a broken tooth. If you can see tooth pulp (the center part of the tooth, consisting of blood vessels and connective tissue) coming out from the damaged tooth, you must see a dentist immediately. Before you leave for the dentist, wash your mouth with warm water, rinse off and save any broken tooth pieces. 
Loss of Tooth
If a tooth falls out of your mouth following an injury, you'll need to see a doctor immediately. Try to find the tooth and bring it with you to the appointment. You should rinse the tooth with water, but refrain from scrubbing it or touching the root. If you can, place the tooth back in its original place and hold it down by the crown, not the root. If you cannot do that, place it near its original location between your gum and the cheek. As a last resort, you can place the lost tooth in a glass of milk to prevent it from drying out.
Lost Filling
Some of the following symptoms can signal that you've lost a filling:
Sudden pain in the tooth with a filling

Sensitivity to cold and hot foods

You feel a crack or hole in your tooth

Food gets stuck in the location of the filling
If your filling has fallen out, you can place a piece of sugar-free gum in the hole left by the filling. You can also use over-the-counter dental cement. Then, call your dentist to schedule an appointment, and avoid eating on the tooth until you get the cavity fixed. 
Lost Crown
If one of your crowns falls off, schedule an appointment with your dentist immediately. Make sure to bring the crown to your appointment and avoid eating on the side of your mouth that's been affected. 
When Should I Call My Dentist?
If you are unsure of how serious your dental injury is, it is always best to call your dentist. Shelby Dental's helpful staff will advise you on your issue's urgency. As well as which steps you should take to address your dental damage. Sometimes swift action can prevent further damage and unnecessary expenses. 
Shelby Dental Center in Calera, Alabama, is Here for You
Dental emergencies can be frightening, so it's best to have a plan of action for when they occur. To avoid further damage and more costly treatments down the line, make sure to address your dental injury as soon as possible. Contact us if you are experiencing a dental emergency or if you have any questions!