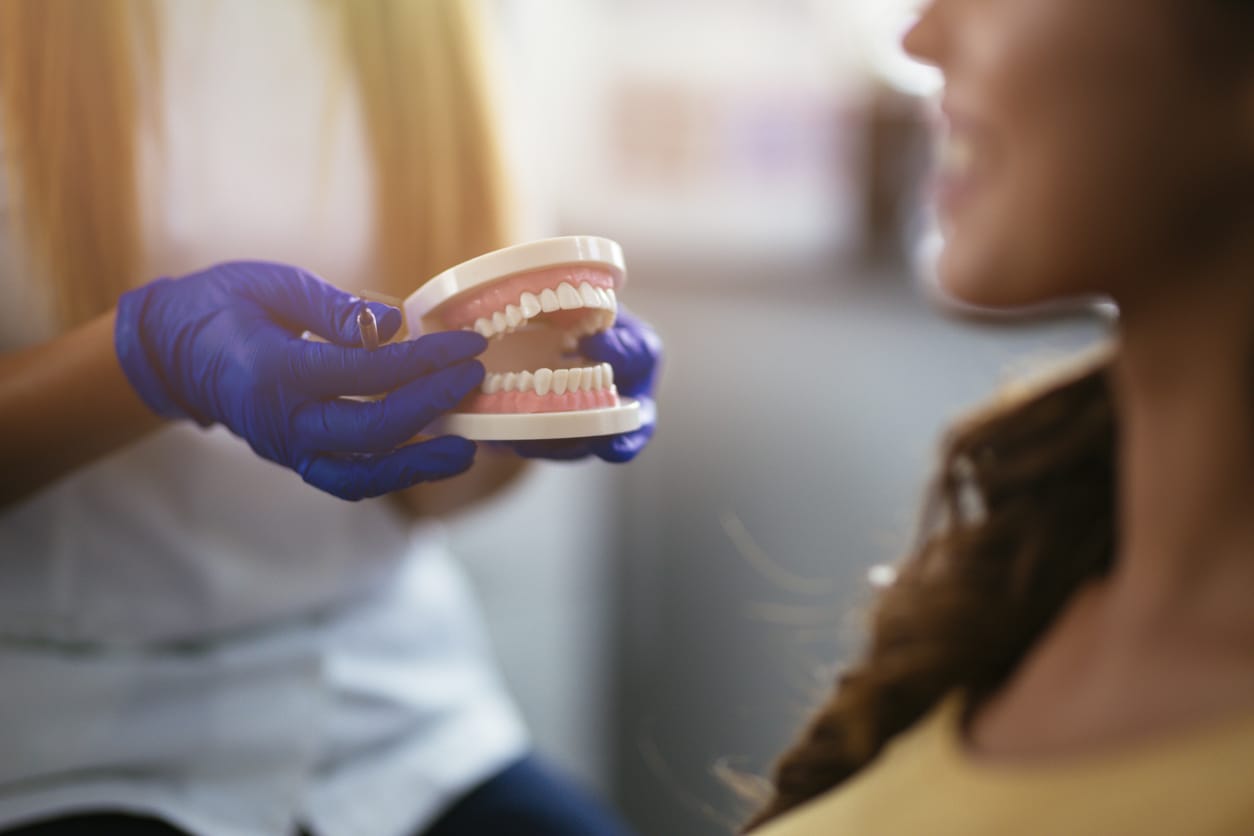 Dentures
New Year, New Priorities: How to Best Care for Your Dentures
If you've recently started wearing dentures, you'll likely find yourself going through a period of adjustment. While you're getting used to your new pearly whites, it's essential to learn how to take care of them to ensure they last for years to come.
In this blog, the team at Shelby Dental discusses everything you need to know about caring for your dentures. Whether you just started wearing dentures or have worn them for years, we hope you can find some helpful tips from Calera's premier dental center. If you have any other questions about your dentures, don't hesitate to contact our friendly staff!
Remove and Rinse After Eating
After you eat, it's essential to remove and rinse your dentures. We recommend running some cold water over your dentures and taking the time to remove any debris that has built up. While rinsing, try to be gentle and use a soft-bristle toothbrush so you don't accidentally damage your dentures. Proper rinsing ensures food and debris don't accumulate and become hardened on the dentures.
Clean Your Mouth
You should maintain proper oral hygiene to create a shiny and clean environment for your dentures. Each morning and night, if not after every meal, we recommend you take a toothbrush and brush your tongue, the roof of your mouth, and your cheeks. During this time, remove any adhesive that may be on your gums.
Soak Your Dentures
Soak your dentures in a cleaner to help them retain their shape for a comfortable, natural fit. Numerous denture solutions are available, but we recommend speaking with your dentist about the best choice for you.
If you prefer a DIY denture-cleaning solution, you can soak your dentures in white vinegar or combine salt and water for shiny pearly whites. If you have questions about which products to use for cleaning your dentures, don't hesitate to contact our team at Shelby Dental.
Brush Your Dentures Daily
Just like teeth, we recommend brushing your dentures daily. After soaking your dentures, use a soft toothbrush and some denture cleaner to remove any deposits, food build-up, or plaque.
If you use any kind of denture adhesive, make sure that you clean the parts that fit snugly against your gums. You shouldn't wear denture adhesive for more than 12 hours, so a proper brush is vital to avoid any negative side effects, like digestion problems. Denture cleaner should only be used while soaking your dentures, not as a substitute or alternative to mouthwash.
Always Rinse
Before you put your dentures back in your mouth, we recommend giving them a thorough rinse, especially if you've just soaked them. The solution contains a chemical that leaves your dentures sparkling but can be toxic if ingested.
After cleaning and soaking, we recommend placing your dentures in a cup of plain tap water overnight. Most dentures must be stored wet to maintain their shape, but always check with your dentist about what's right for you.
Your Trusted Denture Experts: Shelby Dental Center
Since 1985, we've been dedicated to your oral health. Our mission is to provide quick and efficient denture services so you can feel comfortable and confident. We aim to educate each patient about denture care and are always willing to listen to any questions or concerns. If you are interested in same-day dentures or have questions about denture maintenance, contact us today!
Have a Question About Your Dentures? Call Us Today!
Proudly serving Calera, AL, and surrounding areas, we can help you with all your denture needs. We offer same-day denture services, quick replacements, general dentistry services, and more! Call us at (205) 664-1190 or contact us online to learn more about denture care!