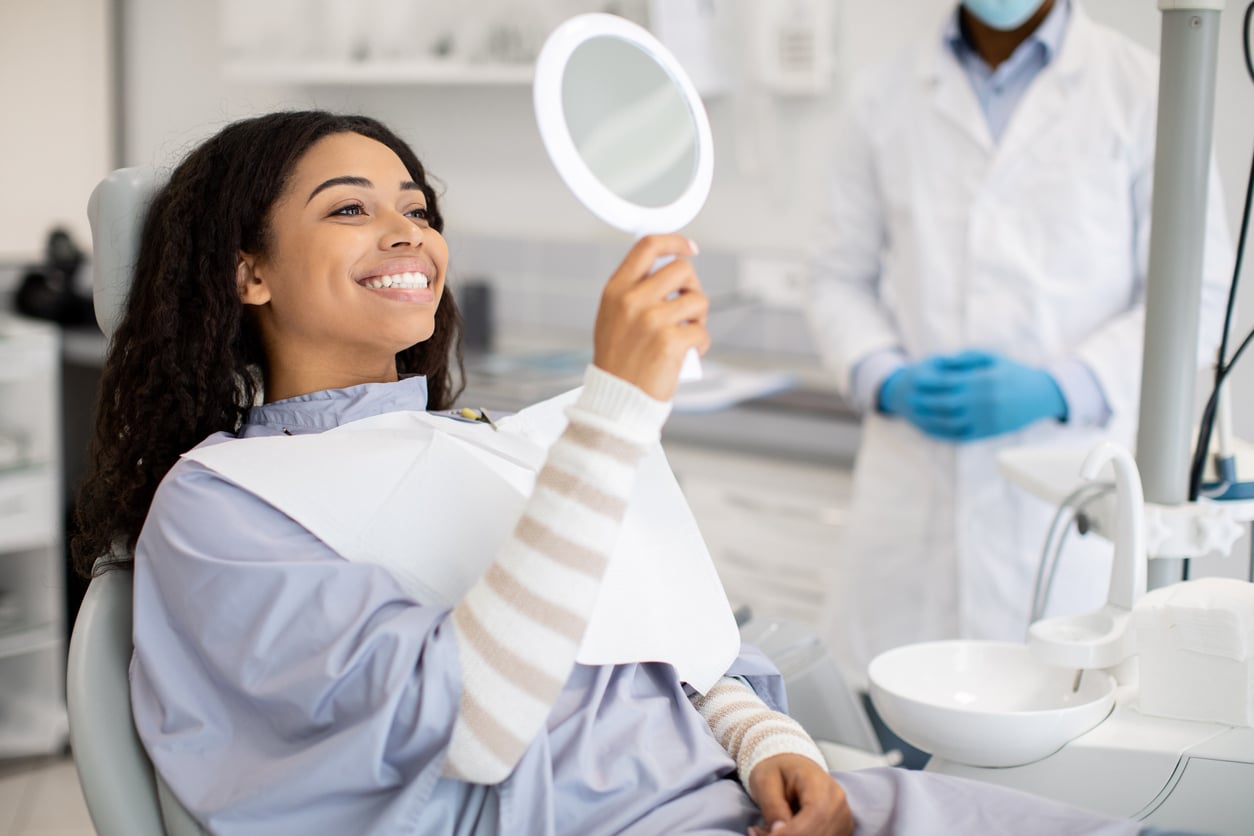 Dentures
Teeth Whitening FAQs: How It Works & What to Expect
Over time, our pearly whites can lose their sparkle, leaving us self-conscious and embarrassed of our lackluster smiles. Red wine, coffee, tobacco, natural aging, and more can all quickly lead to dull and discolored teeth. If you've been trying to brighten your smile with whitening toothpaste, strips, and other gimmicks with no luck, you're not alone. Many people use at-home whitening products with little to no results.
Luckily, you can Experience real results at Shelby Dental! Our professional teeth whitening services can brighten even the toughest of stains. Our expert team discusses everything you need to know about in-office teeth whitening, so you can be prepared for your upcoming visit. Achieve a radiant smile with help from the team at Shelby Dental this December.
What Causes Tooth Stains?
There are three categories of teeth stain causes: extrinsic, intrinsic, and age-related teeth stains. Extrinsic stains are surface-level issues that occur when food, drink, or other particles stain the film covering the tooth's enamel. These stains are caused by regularly using coffee, tobacco, wine, and other dark-colored substances.
Intrinsic stain is a discoloration accumulated on the enamel below the tooth's surface. Intrinsic stains are usually caused by excessive fluoride use and can be trickier to remove.
The age-related discoloration is a combination of extrinsic and intrinsic stains. As we age, the core of our teeth, called dentin, becomes more yellow. At the same time, our enamel wears out, causing the yellow-colored dentin to become visible. This natural-aging process and extrinsic stains create dull and discolored teeth.
How Does Teeth Whitening Work?
If you're unhappy with the color of your teeth, there's no need to fret. With professional teeth whitening, you can lighten your teeth upwards of seven shades! During your appointment, our teeth whitening professional will apply either a gel containing carbamide peroxide or hydrogen peroxide.
These chemicals break down the stain molecules, resulting in whiter and brighter teeth. Depending on the color of your teeth and the type of stains, you may need follow-up appointments to achieve your desired results. At Shelby Dental Center, we can curate a customized teeth whitening schedule so you can feel proud of your smile.
What Are the Benefits of In-Office Teeth Whitening?
In-office teeth whitening is much more effective than at-home strips because of the strength of the whitening solution. Beyond its unbeatable effectiveness, professional teeth whitening has numerous benefits, including:
Comprehensive whitening, for multiple types of stains
Enhanced confidence
Fewer treatments
Boosted oral hygiene
Quick results
Is Professional Teeth Whitening Safe?
Absolutely! When done by a teeth whitening professional, the treatment is safe and effective. In-office teeth whitening requires little to no downtime and can be completed in under an hour. Common side effects include teeth sensitivity or gum irritation, but most patients don't notice any discomfort at all.
With in-office whitening, your specialist can monitor your treatment to avoid irritation. If you have questions about your teeth whitening treatment, don't hesitate to ask your provider.
Your Ultimate Destination for All Your Dental Needs
Say goodbye to pesky whitening strips and hello to hassle-free professional teeth whitening. At Shelby Dental, you can experience a brighter, whiter smile in just one appointment. Our team of experts can tailor a teeth whitening schedule to your needs so that you can feel your best each and every day. Discover a whiter smile today!
Interested in Professional Teeth Whitening? Call Our Office Today!
Do you want to brighten your pearly whites? With 25 years of experience, we're dedicated to helping you feel confident in your smile. Call us at 205-235-5859 or book an appointment online to achieve a brighter smile in Calera, AL!